FINESSE MITCHELL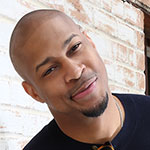 Saturday Night Live alum, Finesse Mitchell, a versatile actor and comedian, plays China Ann McClain's cop father on the hit Disney show, "A.N.T. Farm", which is now in it's third season. Mitchell also appears on the current season of VH-1's hit show "Single Ladies" as "Jobari". He is currently penning his highly anticipated second book, this one geared towards children. His last book, published in 2007, "Your Girlfriends Only Know So Much" (Simon/Spotlight) was an advice book for women stemming from his hip, hilarious and wildly popular monthly advice column as a writer/contributor for ESSENCE magazine.
Mitchell also had memorable performances in movies, "Who's Your Caddy", "The Comebacks" and "Mad Money."
Born and raised in Atlanta, Georgia, Finesse graduated from the University of Miami. A former student-athlete who was a walk-on for the National Champion Hurricanes football team, that played with such UM alumni as Dwayne "The Rock" Johnson and Superbowl champion, Warren Sapp. Finesse is also a distinguished member of Kappa Alpha Psi Fraternity, Incorporated where in 2011 he performed with the Kings of Comedy Kappa man, Cedric The Entertainer, for the fraternity's 100 Centennial Conclave.
He recently directed and produced his latest stand-up one hour comedy special, "One-Man Monster" that will be released in 2013. With all of these things happening in his career, Mitchell is riding high and he's not coming down anytime soon.