EARTHQUAKE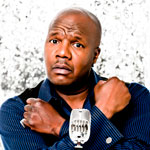 "His delivery is perfect and what he says, regardless of what he calls it, is hilarious," exclaims mega media-mogul Howard Stern who is now calling, "Earthquake his new favorite comedian."
Howard Stern is not just the only one who has been bowled over the inimitable voice and talent of Earthquake; he has solidified a significant following from coast to coast via television appearances and sold-out concert dates. In addition, you will even recognize Earthquake for role as Uncle Mike on "Everybody Hates Chris" and the cult classic "Clerk's II" where director Kevin Smith cast him opposite Wanda Sykes.
Earthquake has become a television fixture by way of his countless stand-up appearances including: "HBO's Def Comedy," "HBO One Night Stand" and "Comedy Central Presents: EARTHQUAKE." In addition, there is Earthquake's concert DVD 'It's About Got Damm Time', a title grossly paralleling his emerging popularity and the quality of his work, a masterpiece. His comedic talents have also allowed him to the voice Root the Rooster in the animated feature "Barnyard."
Earthquake speaks a unique language with a strong intellect that's universally understood and he stands on his platform without fear as he reminds America of the ills that plague our people. This platform alone has garnered this Washington D.C. native a residence on the popular comedy circuit where his fans run the race spectrum, the gender spectrum, and the spectrum that crosses between average folk and major celebrity.
For more information, please visit www.quakeshouse.net or www.myspace.com/quakeshouse2